Everything for a good season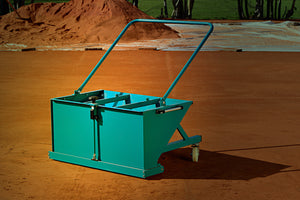 Professional equipment for tennis court maintenance
grooming machines and accessories
Do you have questions about our tennis court equipment?
We will be happy to help you on +49 (0)911 64 200 43 or
info@lob-sport.de available.
Welcome to LOB Sport tennis court equipment
Buy tennis nets, tennis lines, tennis posts and much more conveniently online
LOB Sport is your competent contact when it comes to first-class tennis court equipment and modern equipment for the tennis club.

For more than 40 years, we have been offering our customers a wide range of products for tennis facilities, from classic squeegee brooms to long-lasting trawl nets to modern magic brooms. With around 500 products for tennis court equipment, you have an extensive selection, professional advice and customer-friendly service from ordering to repair.
You too can enjoy the advantages of the LOB Sport tennis court equipment on your tennis facility. Quality, price and performance will also impress your members across the board when it comes to spring overhauls, course maintenance, tournaments and daily training. In the LOB Sport online shop you get:
Modern and durable tennis court equipment, such as nets, single bars, posts, lines, pipe anchors, webbing, separating nets, screens, chairs, benches and a wide range of accessories
A wide variety of equipment for site maintenance, such as squeegee and line sweeping brooms, line brushes, trawl nets, squeegee mats, scraper planes, and much more. in a variety of designs and qualities


A large selection of scoreboards, occupancy boards and display devices for smooth gaming operations


Professional training equipment, such as ball baskets and collectors, tennis walls, small court facilities, tennis balls, ball carts and ball throwing machines


Solutions for tennis court order with signs, trash cans and shoe cleaners


Powerful maintenance machines for spring overhaul and course maintenance, such as the special milling machine Tennishexe, the sweeper Zauberbesen, the Sandy sanding device, hand rollers, LOB hydraulic rollers and Zagro motor rollers


Well-known brands and products such as SPEZIALA tennis lines, MATCH LINER line sweepers, ALUPLAN removable mats, PERROT pop-up sprinklers, MATCH POINTER scoreboards, ARP and NASSAU tennis balls and PLAYMATE ball throwing machines